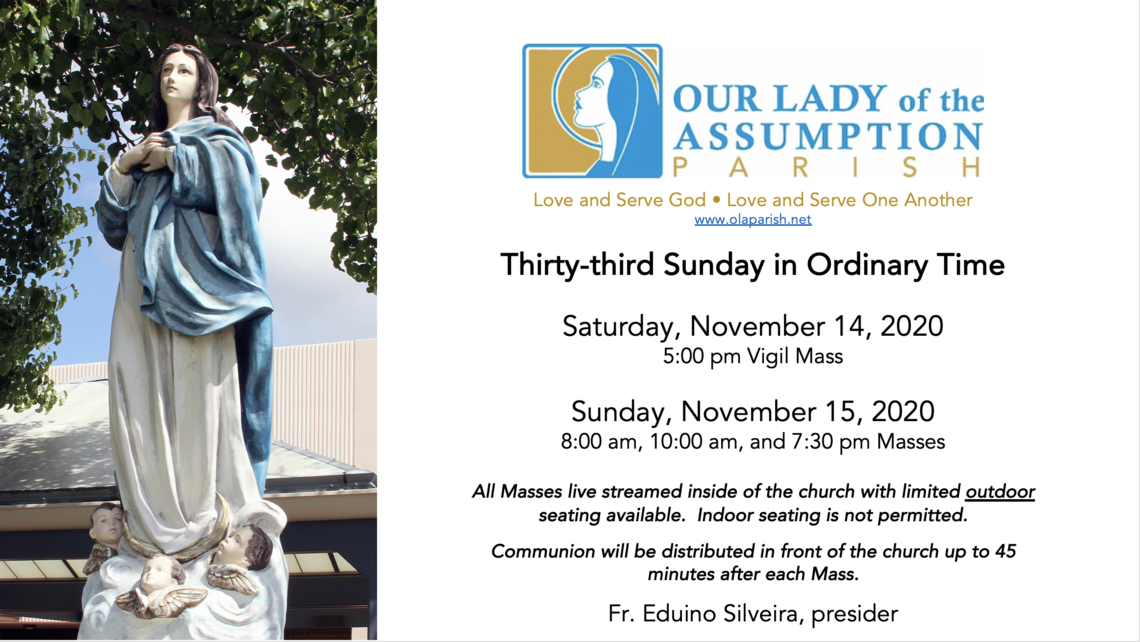 This weekend, we welcome you to join us at OLA for Mass, either in person at an outdoor Mass or online from the comfort of your own home.  We have added an outdoor Mass at 7:30 pm Sunday evening!
The Saturday 5:00 pm Vigil Mass will be live streamed and closed to the public.  
Click HERE to view the Mass on our parish website.  You can conveniently donate, view the worship aid and bulletin, and send us your prayer intentions using the live stream Mass page on the website. 
The Mass will be available to view throughout the weekend on our website, our parish YouTube channel, and parish Facebook page.

Please note: Today we have been experiencing internet problems at the church.  If the live stream Mass doesn't stream online at the scheduled time, we will record it and upload it to the website this evening.  Thank you for your patience and understanding!  Hopefully the internet problem will be resolved before 5:00 pm today. 
On Sunday, we will have outdoor Masses at 8:00 am, 10:00 am, and 7:30 pm.  There is no 11:00 am Sunday Mass.  
The morning outdoor Masses will take place in the courtyard area between the classroom wings of the school.  The 7:30 pm Mass will take place in front of the rectory behind the church office.
We will open the blacktop area near the St. Vincent de Paul Food Locker (blacktop playground) for parking.  If you park in the regular parking lot on Walnut Ave, you may enter through the gate between the Parish Hall and school building.
Folding chairs on racks will be placed at the entrance to the courtyard, and we would ask that participants practice physical distancing of at least 6 feet in choosing where to sit.  Families, of course, may sit together.  Please feel free to bring your own chairs.
Masks are still required for Mass.  We will provide one for you if you need one.
We will continue to collect information for contact tracing purposes.  
The congregation is asked to not sing or chant during the Mass.  The cantor alone will provide song during the Mass.
If you are sick or feel unwell, please stay home.  Dispensation from Mass is still in effect for all of the faithful.
We look forward to being with you in prayer and worship this weekend.  Our Lady of the Assumption, pray for us.