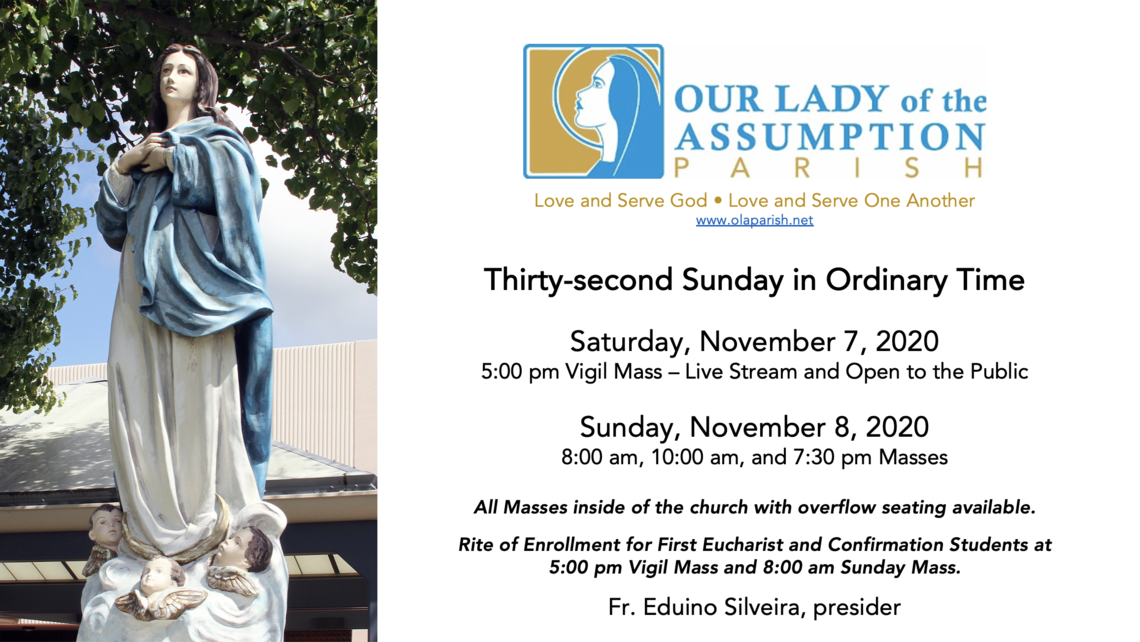 This weekend, we welcome you to join us at OLA for Mass, either in person inside of the church or online from the comfort of your own home.  
The Saturday 5:00 pm Vigil Mass will be live streamed and now also open to the public.  
Click HERE to view the Mass on our parish website, where you can conveniently donate, view the worship aid and bulletin, and send us your prayer intentions.
The Mass will be available to view throughout the weekend on our website, parish YouTube channel, and parish Facebook page.
On Sunday, we will have Masses at 8:00 am, 10:00 am, and 7:30 pm.   All Masses will be inside of the church with overflow seating available.
The following diocesan and county guidelines are still in place:
Attendance is limited to 100 people inside of the church.  For weekend Masses, overflow seating will be available.
Face masks are required for those ages 2 and older unless you have a medical exemption.  We will provide a face mask for you if you need one.
We will continue to collect information for contact tracing purposes.
Use hand sanitizer when you enter the church and when you leave.  You are also encouraged to bring personal hand sanitizer with you.
Maintain physical distancing of at least six feet when seated and when in line to receive communion.  Families may sit together.
The congregation is asked to not sing or chant during the Mass.  
Wear your face mask and maintain physical distancing of six feet while in line to receive Holy Communion.  You are encouraged to receive in the hand.  Upon receiving the Body of Christ, step to one side and consume.
Please minimize socializing after Mass.  Wear your mask and maintain physical distancing when talking to others.  
If you are sick or feel unwell, please stay home.  Dispensation from Mass is still in effect for all of the faithful.
Thank you for following the diocesan and county guidelines, which allow us to to have the public celebration of the Mass.
We look forward to being with you in prayer and worship this weekend.  Our Lady of the Assumption, pray for us.