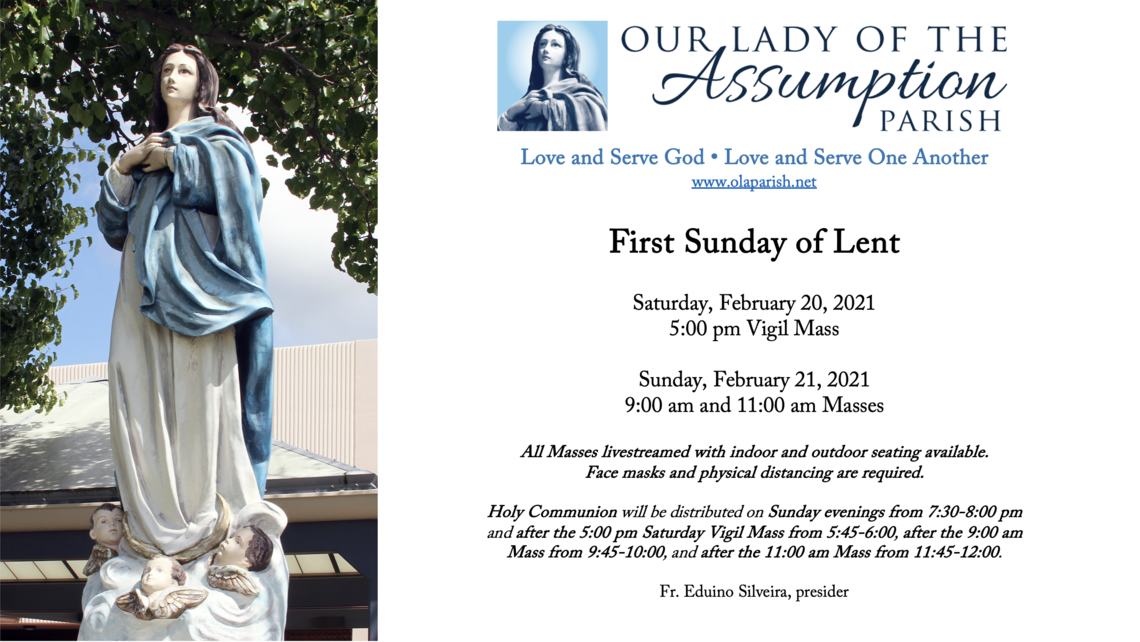 We welcome you to join us at OLA this weekend for Mass. You are encouraged to join us online, and limited outdoor seating will also be available. All weekend Masses will be live streamed, and our weekend Mass schedule will remain the same: Saturday 5:00 pm Vigil Mass; 8:00 am, 10:00 am, and 7:30 pm Sunday Masses. All Masses can be viewed on our website by clicking HERE and can also be viewed via YouTube and Facebook. Because Sacramento County re-entered the purple tier for COVID-19 cases this week, indoor seating for Masses is not permitted at this time. 
We hope that you can enjoy the Liturgy of the Word and the Eucharistic prayers through our live streams, and now we hope you can feel more complete by receiving the Blessed Sacrament, also. We are allowed to distribute the Blessed Sacrament after each Mass to those wishing to drive to the church and receive. We ask people to park in our Walnut Avenue parking lot or use street parking on Cottage Way and proceed to the main church entrance. Face masks are required. Ministers will be present to give Holy Communion. Go to either of the two doors and receive. Please leave the area immediately, to respect and provide social distance for others wishing to receive. Ministers will be available until 45 minutes after each Mass. This 45 minutes plus the 15 minutes or so when we share the Body of Christ at the Mass, will fulfill the one hour time available at each Mass to receive the Blessed Sacrament.
Mass will be taking place inside of the church and live streamed, and we will also provide an outdoor setting area where parishioners may attend Mass in person if they wish. There will be limited seating, contact tracing information will be collected, and masks will still be required. Outdoor seating will be provided under the portico at the church front entrance. When it is time for Communion, ministers will come to the church doors and distribute the Blessed Sacrament. 
Thank you for your patience and understanding during this difficult time. Our Lady of the Assumption, pray for us.